TELECOMMUNICATIONS SERVICES
Wireless Network Services
-> RF Consulting

If you're having difficulties with your current wireless technologies, Akasi can assist in identifying problem sources. If you need to expand a current system or build out a new infrastructure, our engineering team can help guide you toward the ideal solution

-> In-Building Installation

Akasi specializes in large-scale installations and has designed over 4,000 wireless communication solutions nationwide in hotels, airports, malls, NFL stadiums, convention centers, government offices, and residential properties.

-> Neutral-Host Mobile Wireless

Akasi can improve your in-building coverage for all major mobile phone carriers by providing neutral-host system site surveys and design. We specialize in providing neutral-host systems in stadiums, universities, and malls as well as medical, manufacturing, and corporate facilities.

-> WiFi Solutions

By combining RF engineering expertise with state-of-the-art data collection and design tools, Akasi designs and installs turnkey WiFi solutions to fit your operating requirements. We have designed networks for various applications including backhaul links, municipal networks, enterprise applications, and outdoor public safety systems.

-> Public Safety Wireless Systems

Akasi designs and installs wireless public safety systems for simple integration into emergency procedures. We understand the challenges associated with building interoperable systems and therefore guide our customers through the development of open architecture models.
Network Extension & Deployment Services
We provide turn-key field installation, engineering, and test and turn-up services to
Telecom Service Providers.
Equipment OEMs
Cable Television & Internet Service Providers
Wireless Service Provider
We service every part of the product development life Cycle
Project Management :

Allows our customers to focus on the end result

On-Site Field Surveys for BOM Generation:

Reduced project timeline & increased quality

Customer Device Configuration :

Developed and loaded on equipment prior to shipment

Configuration Testing :

Helps eliminate out-of-box failures & increases on-time delivery
OEM Solutions
Software Defined Networks
Data Center Infrastructure
Custom FiberOptic Connectivity& Infrastructure
Metro DWDM/Optical Transport Network Solution Design
Technology Deployment
System Integration & Distribution
OEM Partners
Ciena
Juniper
Tridium
Coriant Networks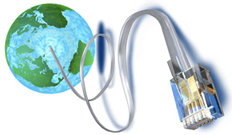 Cable Broadband Services
Cable Broadband is a high speed internet service that runs over the existing cable TV infrastructure. It is many times faster than dial up access and typically offers higher speeds than DSL. Pricing tends to be the same as like speed DSL or other shared high speed internet services

Dedicated Internet Access
Dedicated Internet Access (DIA) is connectivity from a user's location to the Internet. DIA is comprised of two separate components: the local loop and the DIA port. The local loop is the physical connectivity from the user's location to their DIA provider's Point of Presence (POP). The local loop can either be ordered through the DIA provider, or through an alternate carrier of the customers choosing as customer provided access. The DIA port acts as the mechanism that allows for Internet access and is typically not oversubscribed.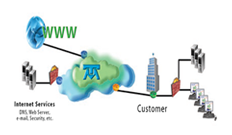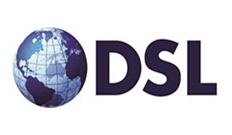 Digital subscribers Line
Digital Subscriber Line (DSL) is a family of technologies that provides digital data transmission over the wires of a local telephone network. DSL originally stood fordigital subscriber loop. In telecommunications marketing, the term Digital Subscriber Line is widely understood to mean Asymmetric Digital Subscriber Line (ADSL), the most commonly installed technical varieties of DSL. DSL service can be delivered as a stand-alone product or simultaneously with regular telephone on the same telephone line as it uses a higher frequency band that is separated by filtering.

Ethernet Private Line
Ethernet Private Line (EPL) is a data service providing a point-to-point Ethernet connection between a pair of dedicated User-Network Interfaces (UNIs), with a high degree of transparency. EPL is implemented as a point-to-point Ethernet Virtual Connection (EVC) which, unlike Ethernet Virtual Private Line (EVPL), does not allow for Service Multiplexing, i.e., a dedicated UNI (physical interface) is used to accept all service frames and map them to a single EVC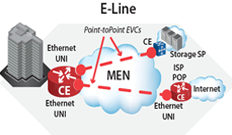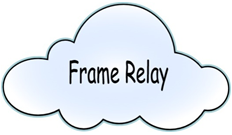 Frame Relay Data Services
Frame Relay is a telecommunication service designed for cost-efficient data transmission for intermittent traffic between Local Area Networks (LANs) and between end-points in a Wide Area Network (WAN).
Frame Relay requires a dedicated connection during the transmission period. It's not ideally suited for voice or video transmission, which requires a steady flow of transmissions. However, under certain circumstances, it is used for voice and video transmission

Metro Optical Ethernet (MOE)
Metro Optical Ethernet (MOE) service combines the power of Ethernet and optical technologies across metropolitan area networks (MANs) to provide low cost, scalable and secure bandwidth. MOE provides local area network (LAN)-to-LAN connectivity between two or more customer locations within a metro area. MOE is based on distributed Layer 2 switching and shared transport data bandwidth, and is suitable for data applications.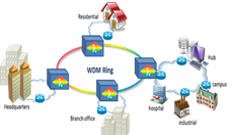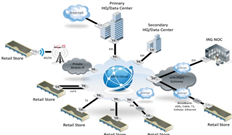 MPLS
MPLS is a highly scalable, protocol agnostic, data-carrying mechanism. In an MPLS network, data packets are assigned labels. Packet-forwarding decisions are made solely on the contents of this label, without the need to examine the packet itself. This allows one to create end-to-end circuits across any type of transport medium, using any protocol. The primary benefit is to eliminate dependence on a particular data link layer technology, such as ATM, frame relay, SONET or Ethernet, and eliminate the need for multiple Layer 2 networks to satisfy different types of traffic. MPLS belongs to the family of packet-switched networks.

VPN
Dedicated Long Distance refers to the access of a long distance provider through a dedicated circuit. By installing a dedicated long distance circuit, customers have the ability to dial long distance calls directly into the provider's network and avoid local line charges through their local voice carrier. Dedicated Long Distance circuits are comprised of two separate components: the local loop and the long distance rate charges.
The local loop is the actual connectivity from the customer's physical location to their Long Distance provider's POP (Point-of- Presence).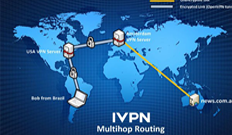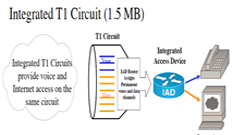 Integrated T1
Integrated T1's are designed to meet the voice and data needs of small and medium businesses. Customers have access to the Internet for data and Internet voice calls, and to the gateway used to make calls to end users on the public switched telephone network (PSTN).
Integrated T1's are geared toward customers that want to retain their existing telephony infrastructure (private branch exchange (PBX), key system and handsets) or upgrade to a new premises-based PBX or key system. Integrated T1's are terminated at the customer's premises using an integrated access device (IAD). The IAD acts as an aggregation point, sending voice traffic to the existing telephone system and data traffic to an existing local area network (LAN) or to the Internet.
Local Business Line
Local Business Lines are plain old telephone service (POTS) providing dial tone and access to local calling. They are typically available as flat business lines or measured business lines depending on your local area and the carrier that is proving the service. Local Business Lines re available with no features or with a wide array of local calling features such as caller ID, hunting, call transfer, three way calling and many more.
The local loop is the actual connectivity from the customer's physical location to their Long Distance provider's POP (Point-of- Presence).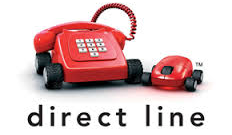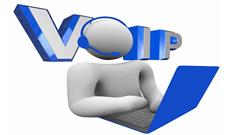 VoIP Services
Voice over Internet Protocol (VoIP) is a general term for a family of transmission technologies for delivery of voice communications over IP networks such as the Internet or other packet-switched networks. Other terms frequently encountered and synonymous with VOIP are IP telephony and Internet telephony. Internet telephony refers to communications services — voice, facsimile, and/or voice-messaging applications — that are transported via the Internet, rather than the public switched telephone network (PSTN). The basic steps involved in originating an Internet telephone call are conversion of the analog voice signal to digital format and compression/translation of the signal into Internet protocol (IP) packets for transmission over the Internet; the process is reversed at the receiving end